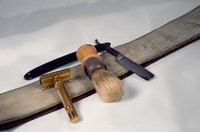 The traditional method of shaving consists of shaving lather and a straight razor. A straight razor has a metal blade that swivels in and out of a handle. While the handle can be made of almost any material, straight razor blades are almost always made of an iron-based metal. When iron is properly cared for, it will last for an entire lifetime and more. One of the most important steps of straight razor maintenance is the cleaning process. If the blade is cleaned poorly, it will almost certainly turn to rust.
Things You'll Need
Fine steel wool
Clean cloth
Cotton swab
Rubbing alcohol
Mineral oil
Examine the blade for rust. If rust is present, scrub it off with a fine steel wool. Use the finest steel wool available to prevent scratches on the blade.
Dip a cotton swab in rubbing alcohol. Scrub the blade with the saturated cotton swab. Wipe the blade with a clean, dry cloth.
Apply a thin coat of mineral oil to the blade. Mineral oil adds necessary lubrication to the iron-based blade and prevents future rust.
Let the blade sit for 10 minutes. Wipe off excess oil with a clean, dry cloth.
Wipe the handle with a damp cloth to clean off dirt. Do not use any type of cleaning detergent on the handle.