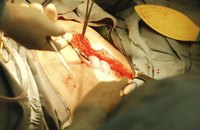 Keeping stitches (sutures) free of scabs and dried fluid will keep them soft and easier to remove when the time comes. Sutures can usually be cared for at home, and strict adherence to wound care instructions provided by your physician should be followed. Watch the sutured area for signs of infection and maintain daily care to keep the area clean and dry.
Things You'll Need
Antibiotic cream
Non-stick gauze pad
Wipe over your stitches with a damp washcloth to help prevent build up of blood or other secretions. Cleanse the area with a mild soap if your physician approves. Completely dry the area with a clean towel, ensuring each suture is thoroughly dry, as well as the skin around the sutures.
Squirt a drop of triple antibiotic cream onto a clean cotton swab. Spread the cream over your sutures with the cotton swab, ensuring that each suture is completely covered with cream.
Cover your sutures with a clean dressing as instructed by your physician. Utilize a non-stick pad, if possible, over the sutures to prevent the dressing from adhering to the wound. Repeat the process of cleaning the area and applying cream to your sutures as instructed by your physician.