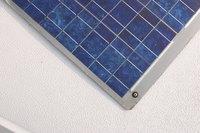 Inexpensive solar panels can be made from common home supply store items to warm air for heating a home. Very simple construction techniques can be used to harness solar radiation for interior warmth, reducing or even eliminating heating bills. The average backyard homeowner can make a cheap solar heating panel in about an hour.
Things You'll Need
Plywood sheet
Saw
2x4 lumber (13 or more feet)
Wood screws (3-inch)
Plexiglas sheet
Drill
Screwdrivers
Cut a section of plywood into a rectangle that can be lifted by one person. Typically, this is about 4 feet long by 3 feet wide. This is the base of the panel.
Attach three cut 2x4s (two 4-foot, one 3-foot sections) to the edge of the plywood using wood screws. This creates a shallow box that is open on one side.
Cut four small blocks of 2x4, 6 inches long each. Place them flat into the interior corners of the panel and secure them with glue or wood screws. The result is a block at each corner, half as tall as the 2x4 wall.
Cut another section of plywood slightly smaller than the first section, about 2 inches shorter on all sides. Place this onto the 2x4 blocks, on the inside of the panel. Align the plywood with the "open" end of the panel (missing the 2x4), making a gap at the bottom between the blocks. This creates a sandwiched air gap, with an opening to generate circulation.
Paint the top of the second section of plywood flat black, also painting the exposed sides of the 2x4 walls. Allow the paint to dry and apply a second or even third coat. Allow the paint to dry and cure.
Attach the section of Plexiglas to the top of the panel, sealing the front of the plywood box. The Plexiglas can be secured with strong adhesive, or have small holes carefully drilled for using wood screws, or both. This leaves one end of the panel open, and when this end is viewed head-on it has two air vents created by three separators (two plywood and one Plexiglas).
Attach the open end of the panel to an open window using measured and cut plywood, or cardboard and duct tape. Lean the panel against the open window and secure the open end with the connection method chosen.
Direct the interior "vents" to heat the room. The top air gap is the output, and the bottom air gap is the intake. Using ducting, the lower air gap can be set to the floor, while the top air gap can remain at window level. With this finished panel, the air will be drawn into the bottom gap by the vacuum created when the hot air escapes the panel through the top gap. The black, Plexiglas covered section will heat the air on the top layer, and the cooler air will follow it.