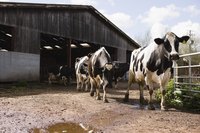 There are many different designs of cattle barns available from University Extension offices. Some plans are designed to work for dairy farm operations. Others are useful for the calving process of a beef cattle operation. In some cases, the barns are built for only seasonal housing of livestock; others are built for year-round use.
Planning a Cattle Barn
Determine the design and layout of the cattle barn. Dairy barns are often built as housing for the cattle year-round and also contain a milking parlor and other equipment associated with a dairy operation.
Beef cattle are usually allowed to graze on pastureland much of the year. A barn may be built for use as shelter during the calving season or as a loafing shed used to when calves are fed to slaughter weight.
Determine the size of the barn. Make sure the building offers enough space to house the cattle as needed for whatever time necessary. The barns may be open on the interior or divided into stalls or pens as needed.
Determine the construction method. Pole construction methods are commonly used for barns. Poles, set in the ground, serve as the framework of the barn. Other building methods for barns include concrete blocks and wood frame construction.
Building a Cattle Barn
Prepare the building site by leveling the ground and removing all obstructions. Any water lines to the barn should be dug in before construction starts.
Set the posts for a pole barn or pour a foundation for a cement block or wood frame barn. This serves as the base for the barn. Use pressure-treated lumber for any components of the barn that will come in contact with the livestock manure.
Complete the exterior of the barn by adding wall components and the roof. Use construction techniques consistent with the type of construction being used on the barn. Add insulation to the roof and walls of the barn. Even if the barn is not heated, insulation will help moderate temperatures during the summer and winter.
Add any interior walls or pens to the barn. These components complete the design of the plan for the barn. Install electric lights and outlets as desired. Keep outlets high enough to be out of the reach of the livestock housed in the barn. Add other items such as feeders or water tanks as needed to the barn. Add any doors or ventilation systems necessary to complete the barn.