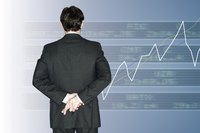 On the stock exchange there is a relationship between price and volume that, to a skilled trader, can reveal when the market is about to break out to the upside or to the downside. You can learn to spot these moments right before a big move occurs by learning a few simple steps that will help you to track stock exchange volume levels to signal whether the market is about to take off on a bull or bear run.
Seeing The Big Picture
Go to the website of a free charting service such as FreeStockCharts.com to open a price chart. Input the symbol for one of the big stock indexes like the S&P 500. Use a big index to track stock exchange volume levels because they represent a broad segment of the market that is traded on those exchanges.
Click the "Indicator" tab on the upper part of the screen and select the "Trading Volume" indicator, which will reveal if any given trading day is under accumulation or distribution. If it is an accumulation day, that means that price has moved up 1% or more in price on larger volume than the previous trading day. If it is distribution day, then it means that the price has dropped down 1% or more than the previous trading day. Make note of each of these types of trading days.
Click the "Indicator" tab again and select the 20-day SMA (simple moving average) and overlay the indicator over the volume levels at the bottom of the screen. The 20-day SMA is the average of the last 20 days' closing volume levels and will give a visual representation of the flow of buying and selling volume entering the market.
Mark large trading days on large volume as either an accumulation day or a distribution day. By keeping track of the volume on the stock exchanges and whether they are being bought up or sold off will reveal whether the market will continue a bullish trend or a bearish trend.