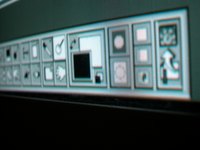 A letterhead adds a professional touch to any form of correspondence from a company. Using a letterhead allows you to represent the company with those you correspond with. A letterhead logo is an extension of the company's marketing department and it is part of the company's presentation and identity. From brainstorming the concept to designing the image, you can create a powerful letterhead logo that will be constantly seen within and beyond the office. Creating a good letterhead logo is important and requires business decision.
Things You'll Need
Pen, paper and eraser
Photoshop application
Word document
Company name and contact information
Make a list of the elements needed to be included in the logo. If you don't have a company logo before making a letterhead logo, you can brainstorm what images you want the company to be identified with. For example, if the company is in publishing, you may think of certain images involved in the industry, such as books, letters, pen. To guide you, ask yourself how you can convey the mission and identity of the company in an image.
Design the logo on paper first. It is easier to come up with the concept on paper because you don't need technical know-how like you would need when designing something in Photoshop. Once you've made a list of potential images, identify one that you can build into the company's letterhead logo. Make sure this image reflects the company well even as a standalone image without the company's name. Don't add too many elements in the preliminary logo because it will clutter the letterhead.
Create the logo in Photoshop by creating a new document. Photoshop is a great software to design logos, from simple shapes to complicated designs. Depending on how big you want the logo to be on your letterhead, create a new document with the size you want. A good size to work with is 100 x 100 pixels. Save the image in JPG by going to File, then click "Save as," and select the "JPG" option in the drop-down menu.
Create a new Word document and click on the header box at the top of the page. Go to Insert, then click "Picture," then "From File," and locate where you saved the logo you made from Photoshop on your desktop. You have now inserted the logo on Microsoft Word. Adjust the size of the logo without changing the size proportions by clicking "Shift" and tweaking the size with your mouse.
Attach the name of the company adjacent to the logo, as well as the address, phone number and company email address. Type these information next to the logo. Make sure it fits the header box and the font you use is consistent with the other marketing materials produced within the company. Take a look at the overall look of the letterhead, and consider its position. Tweak accordingly depending on your liking.