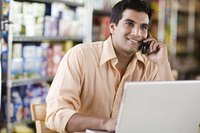 If you own or manage a business, establishing effective communication with all of your crew is essential to team morale and effective monitoring. Establishing an employee hotline is a good way to open the lines of communication, either by telephone or over the Internet. In the end, the technology you select depends on your underlying purposes for your employee hotline.
Things You'll Need
Telephone
Computer with Internet capabilities
Employee hotline guidelines
Develop a set of parameters for the employee hotline. For example:Will the employee hotline be used like an electronic suggestion box? Will the employee hotline be used to report problems in the workplace? You may decide to establish an employee hotline for a variety of reasons. It can, of course, be used to do both of these things.
Select a type of technology for the employee hotline that is best suited to the ultimate objectives of the program. Also take into consideration the most convenient method for retrieving communications from the hotline. Your primary technological options are using a telephone or the Internet.
Draft a set of guidelines setting forth the manner in which the employee hotline will be used. Establishing guidelines at the outset gives employees an idea of how the employee hotline is a beneficial addition to the workplace; moreover, established guidelines are helpful in preventing abuse of the hotline system.
Purchase any necessary hardware and software for the employee hotline system. You may desire a dedicated telephone line or computer terminal for use with the employee hotline.
Designate a staff member--someone in management, perhaps even you--to oversee the operations of the employee hotline. Ideally this is an individual with the authority to respond to problems and directly act upon suggestions, requests and information conveyed through the employee hotline system.
Conduct a meeting with employees to announce the introduction of the employee hotline. Distribute the guidelines at that time, as well as the phone number or Internet location of the hotline.