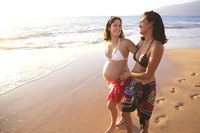 Toenail fungus typically starts as a white or yellow spot on the tip of the nail. If left untreated, the fungus can spread into the nail bed and cause discoloration and crumbling. Toenail fungus can be difficult to treat and may cause pain around the nail. Treating toenail fungus while pregnant requires topical medications or home remedies to clear the infection since oral medications can harm the unborn baby and cause birth defects in some cases.
Things You'll Need
Soak your feet in a mixture of one part white vinegar to two parts warm water for 15 to 20 minutes a day. Vinegar can help stop the growth of certain bacteria, and may help clear your toenail fungus.
Apply Vicks VapoRub to your toenails daily to help clear toenail fungus. Rub the ointment into your feet gently and put socks over your feet until they soak up the ointment to prevent leaving oily residue on your carpets and furniture.
Purchase a topical antifungal cream from your local drugstore or superstore. Topical creams are safe to use during pregnancy because your skin cannot absorb enough of the medication into the bloodstream to cause harm to your baby.
Talk to your doctor about a prescription-strength, topical antifungal medication. Topical creams and ointments are available via prescription to treat toenail fungus and are safe for pregnant women. Antifungal lacquers that you can paint on your affected nail to help clear the fungus are also available via prescription.