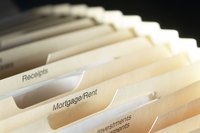 Whether you've enlisted the aid of a debt settlement company or are attempting to settle your debts directly with your creditors, part of the process may require that you agree to a verbal or written contract. If you've entered into a settlement agreement with a third-party company or a creditor and are unable or unwilling to meet the terms, learn how to cancel your debt settlement contract.
Things You'll Need
A copy of the debt settlement contract
Copies of your account statements
Any correspondence between yourself and the debt settlement company and/or your creditors
Computer with printer
Read over your contract carefully. Check to see if there are any specific restrictions on how or when the contract may be canceled. Also, look for any clauses or language relating to binding arbitration or any type of waiver of your right to cancel the agreement. Be prepared to provide supporting evidence to justify your cancellation request.
Contact the settlement company or your creditor and explain why you want to cancel the agreement. You may choose to send a written request as well as contacting them via telephone. Detail any circumstances related to a change in your financial situation and/or any reasons that you feel you should be released from the contract, particularly if the company has violated any terms of the agreement, or if your creditor has violated your rights under the Fair Debt Collection Practices Act.
If you are successful in canceling the agreement, request a written statement that the contract has been canceled. If you used a settlement company, contact your creditors to notify them that you are no longer working with the company in question. Also, if you have given the company or your creditor your bank account information, you may consider closing the account in question to prevent any unauthorized payments.
If the settlement company or creditor refuses to cancel the contract, you may file a complaint with the attorney general's office in your state, as well as the Better Business Bureau and the Federal Trade Commission. If you feel the company has committed a breach of contract, you will need to provide supporting evidence for your claim. Consult an attorney regarding your options and what action to take.