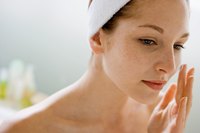 Green tea has many benefits in today's society. Since it may have a positive effect on wrinkles and protecting skin from sun damage and dryness, it can become an important part of daily skin regimens. The optimal form is a cream so that it can be used on the face and body. Although green tea creams can be purchased, a homemade cream may be best since it can be altered to suit a specific skin type.
Things You'll Need
1 ounce gentle base cream in a jar, not a tube (canvas creams)
5 drops of olive extracted squalane
3 drops of green tea extract
3 drops of pomegranate extract
5 drops of coenzyme Q-10
2 drops of syn-tacks
Spoon
Eye dropper (optional)
Open the jar of base cream.
Add five drops of squalane. This substance adds hydration to the skin and also has antioxidant properties.
Add three drops of green tea extract and three drops of pomegranate extract. Green tea and pomegranate add more antioxidant, anti-aging, anti-inflammatory, and sun protection properties to the cream.
Add five drops of coenzyme Q-10. In addition to the sun protection and anti-aging properties, this also adds natural collagen boosters to thecream, which helps to eliminate more wrinkles and face sagging.
Add two drops of syn-tacks to the cream. This is the anti-aging substance that helps to stimulate protein structure activity in the skin.
Stir together with a spoon for at least one minute to mix everything together and bring the cream to one consistency.
Apply the cream. Put the lid on the jar securely and use during regular skin regimens.