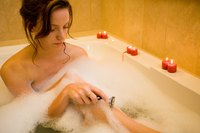 Whether for the pleasures of intimacy or to for a streamlined look in a revealing bathing suit or leotard, shaving the genital area removes hair quickly and cheaply. Afterward, however, you may notice red bumps in the area that cause discomfort and look unsightly. These red bumps, medically called folliculitis, indicate an inflammation of the hair follicle and commonly occur in the bikini area. Shaving the area too closely can produce red bumps and cause ingrown hairs when the hair grows back in and inflames the follicles before piercing through the skin.
Things You'll Need
Shaving cream for sensitive skin
Electric or vibrating razor
Preparation
Shower or bathe in warm water to soften the hair and skin.
Wash gently--don't scrub--the genital area with mild soap and water. Using a scrub or loofah in the area before shaving exfoliates the skin, allowing the blade to shave the hair underneath the first layer of skin, creating a risk of red bumps in the coming days as hair starts to regrow.
Replace the blade on your razor so that it is sharp and fresh, or clean your electric razor. Shaving with unclean tools can introduce bacteria and irritation to the skin and create red bumps.
Shaving
Apply shaving cream made for sensitive skin to the entire area.
Shave in the direction of the hair growth. Shaving against the grain creates a shave that is too close and may cause red bumps.
Pass over each area only once. Multiple strokes exfoliate the skin and may cause razor burn.
Rinse the area with warm--not hot--water and dab the area with a clean, dry towel.
Aftercare
Dry the area completely before getting dressed. Bacteria grow in warm, moist environments.
Wash the area daily with a soft sponge using mild soap and water.
Wear clothing that does not constrict the area or cause too much friction, such as boxer shorts instead of tight bikini underwear.