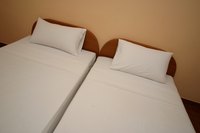 According to Entrepreneur magazine, U.S. companies exported merchandise totaling $772 billion to more than 150 foreign countries in one year. Globalization makes international trade a growth industry. An exporter of bed sheets can obtain domestically manufactured linen products or identify linen industry wholesale manufacturers or distributors for supply sources. The federal government supports exporters through the U.S. Department of Commerce and provides valuable guides, reports, and statistical information for the start-up exporter.
Things You'll Need
Bed sheet supply
Fax machine
Internet/e-mail service
Market research and/or trade leads
Phone
Postage
Stationery and office supplies
Voice mail or answering machine
Exporting Bed Sheets or Linen Products
Find counseling and financial resources. Domestic exporters can secure the valuable Export Programs Guide through the U.S. Department of Commerce. The guide is described by export.gov as "the most comprehensive guide to federal programs which assist U.S. exporters" with securing export counseling, financing, industry supplies, foreign market research, and applicable licenses and controls. Also, contact Service Corps of Retired Executives (SCORE) to find a retired linen or business sheet export mentor. A retired mentor will be a great source of information and insight into markets.
Conduct market research. Identify potential markets that allow bed linen imports. Obtain trade statistics and reports that provide information not only about the market, business practices, distribution channels, and tariffs and taxes - but also political stability. Target a few of the most promising export markets. Currently, the top three trading countries with U.S. exporters is, in order, Canada, Mexico, and Japan.
Secure bed sheet export supplies. As discussed above, bed sheet supplies may be produced and manufactured locally in the United States market for trade in the international market. Alternatively, a wholesale manufacturer or distributor can be used to obtain trade products. One online directory source for wholesale bed sheet suppliers are listed at expo-exports.com. Contrary to its name, import.com also lists linen manufacturers that can be used for exports.
Decide what type of export business to use for the bed sheets export company. An export management company (EMC) works with domestic companies to enter the export market by securing foreign avenues of distribution. An export trading company (ETC), however, works directly with foreign buyers to find domestic businesses willing to export. The "export merchant" is sometimes described as a type of international entrepreneur that is considered more of a free agent that assumes more risks and profits by taking title to exported goods.
Set up the home-business office, an executive suite or other brick-and-mortar business space to perform the administrative paper work of the exporter. This includes, but may not be limited to, generating invoices with quotes for the foreign importer, engaging in negotiations, and securing bank letters of credits. Depending on what type of export business model is used, the export bed sheet company may perform any aspect of manufacturing, packaging, insuring, and transporting the bed linen. Take shipping documents to the bank for payment on the letter of credit.