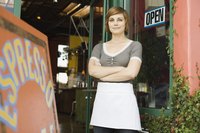 When you suspect sales tax fraud you may not know what to do or who to contact. Your state government relies on sales tax revenue to fund various state-run programs and sales tax fraud takes money away from the programs that need it. It is important to remember that sales tax fraud is a state issue, so you would need to contact the state government office associated with sales tax. You should also have information to back up your claim.
Things You'll Need
Expandable File Folder
Pen
Collect all of the information that you have that relates to your sales tax fraud claim and keep it in an expandable file folder for protection. When you are asked to mail a document be sure to ask if it is appropriate to mail a photocopy. If an original document is required then have a high-definition color copy made of the original for your records before you mail it.
Identify the sales tax department in your state so that you can contact them. They can go by many different names. In Washington State the tax department is known as the department of revenue and in California it is referred to as the board of equalization. An Internet search using your state's name and the phrase "sales tax fraud" should bring you to the department's website.
Call the phone number found on the website and discuss your issue with a representative at the sales tax department. Make notes as to whom you spoke with, the date and time of your conversation and the context of your discussion. Be sure you understand the process of reporting sales tax fraud and the information you will need to submit.
Submit your complaint by using the department's online form. It is best to use the online form because you can print the form out and keep it for your records.
Follow up within seven business days of filing your report if you do not hear back from the state sales tax department. Make detailed notes as to your conversation and if you are asked to resubmit information. Then make a note of who asked you to resubmit the information, the time and date of the request and the time and date that you resubmitted the information.