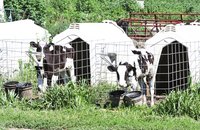 Dairy cows must have calves to produce milk. These calves are often separated from their dams and raised individually or in groups, contained in pens of varying sizes. Smaller calf pens are sometimes referred to as calf hutches. These smaller pens can be made from a plastic container or from wood and wire. Calf hutches are generally small enough to be movable and heavier hutches, such as those made of wood, are sometimes constructed on skids.
Things You'll Need
8 2-by-4 studs, 8 feet long
3 plywood sheets, 4-by-8 feet
Wood screws
Drill with screwdriver attachment
Cattle (livestock) panel
Standard staples, 1-1/2 inch
Hammer
Tape measure
Reciprocating saw with metal blade
Gate hardware or hooks and eyes
Eye protection
Wood sealant
Paint brush
Select a level area to build the calf hutch. The ideal hutch should be at least 32 square feet and measure twice as deep as it is wide, so the walls should be at least 8 feet deep and 4 feet wide. Measure the area for the walls, driving stakes into the ground to mark the corners. Wrap the twine around each pen, forming a rectangle, to mark the area if desired.
Create a frame for your shed. Cut four of your 2-by-4 inch studs in half. Set aside. Form two 4-by-8 foot rectangles. These rectangles will frame the sides of your pen. Connect the two rectangles, top and bottom at one end. Connect the frame only at the bottom at the other end.
Screw one sheet of plywood to each long side of the frame.
Measure and cut two pieces of plywood, 18 inches tall by 4 feet long. Screw these pieces in place at the bottom of the frame at the front and at the back of your pen.
Use the reciprocating saw to cut two 4-by-4 foot pieces of cattle panel. Connect one piece to the back of the pen using the standard staples and the hammer.
Measure two rectangles in the remaining 4-by-4 foot section of cattle panel, 12 inches wide by 16 inches deep. The bottom of these rectangles should be 12 inches above the floor of the hutch. Cut out these holes with the reciprocating saw. Hang the panel at the front of the hutch, using the gate hardware or hooks and eyes.
Apply the wood sealant to the sides and bottom panels of the hutch. Allow the sealant to dry before placing buckets and bedding into the hutch.