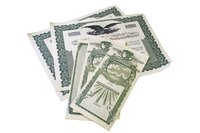 If you have recently found stock certificates for oil companies you have never heard of before, you may think they are simply worthless. This may be untrue; so long as the stock certificate is still registered, you may be entitled to shares of the successor corporation. For your personal financial reasons, you may wish to determine the value of your old oil company stock.
Determine the initial value and quantity of the shares on the certificate. The stock certificate should denote the number of shares you own. It may also have a date of issuance and fixed price on the certificate as well. The stock certificate will have a CUSIP number which should denote in the company's registry when and for how much the certificate was issued.
Find the successor company for the certificate. Many oil companies merged, were acquired or changed their name. Basic Internet searches for the original company's name should shed light on the fate of the company whose certificates you own.
Call investor relations. Most large oil companies maintain an active investor relations department. Go the successor company's website and find a phone number or email address for investor information. Include in the message your stock serial number and inquire as to the current value of the shares. The company should either tell you the number of shares you currently own and its total value, or will direct you to an online calculator where you can determine this information yourself.