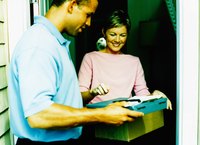 Certified Mail service from the U.S. Postal Service provides the sender with proof of mailing in the form of a uniquely numbered receipt. This receipt is form PS3800, and completing it correctly is important to protect your interest in the event that the recipient disputes the receipt of your Certified Mail. Senders often use Return Receipt service with their Certified Mail items. The Return Receipt form PS3811 provides a record of the addressee's signature and date of delivery. These two items are easy to fill out but are left incomplete--or incorrectly completed--all too often.
Things You'll Need
Address your mail clearly. Your mail will be sorted by high-speed equipment that uses ocular character readers. These machines read the address on your mail and send it to a computer that sorts your mail to the proper destination. They can read script, but print is always your best bet for getting your mail to its destination as quickly as possible. Be sure to use ink that stands out from the envelope; you would be amazed at how many people use red ink on red envelopes every Christmas. Leave room on your envelope for the Certified Mail label.
Complete form PS3800. The sender's complete name and address are all that are required. If you would like to limit delivery to a particular individual, check off the box for Restricted Delivery service, and the postal worker will obtain identification from the recipient at the time of delivery. If you want to get a Return Receipt, please check off the appropriate box.
Complete the Return Receipt, form PS3811. One side is for the sender's address. Write in your name and address clearly so that you will get the Return Receipt back in the mail. The other side of the Return Receipt has a smaller box for you to write in the name and address of the recipient. To the left of that box, check off the small box for Certified Mail. Do not check off the box for Return Receipt for Merchandise--that is a different service.
Peel the backing from Certified Mail form PS3800 and stick the label on your envelope, above the recipient's address. Tear off the rest of the form along the perforated line. Peel the backing from the two ends of the Return Receipt form PS3811 and stick the form to the back of your letter.
Bring your letter, with the certified forms attached, to your local post office. The window clerk will weigh your item and scan the Certified Mail form number into the USPS system as accepted. Then the clerk will print postage for your item, and your portion of form PS3800 will be printed with the fees and the USPS date stamp.