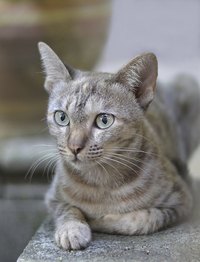 Simple changes to your cat's litter box can prevent an unsightly mess. Minimize the spread of litter throughout the house by using a different box or brand of litter. Choose the optimal location to keep the litter contained while still looking out for your cat's individual preferences. A mat outside the box can make your cleaning job easier.
Change the Box
Check the height of your litter box. Your cat may kick up the litter as she does her business. If the sides are too short, a shower of litter may build up around the sides. Consider a box with several high sides and one lower one, so your kitty can get in and out with ease. A covered box can prevent mess, although some cats will refuse to use it if not cleaned regularly.
Change the Litter
Litter with bigger pieces, such as newspaper or pellets, will not stick to your cat's pads. The larger bits are easier to clean than fine clay litter when they do escape the box. Change your brand of litter slowly so your cat has time to get used to it. Mix in a little bit of the new litter and increase its concentration every day over a series of days. Before you swap litter types, try using less. Cats prefer shallow litter that is only 1 or 2 inches deep.
Change the Location
Cats prefer a private place to use their litter box. Choose a spot that is accessible to the cat and away from her food and water bowls. A nook or corner can provide protection against mess since one or more sides of the litter box are flush against the wall. If you move your cat's litter box, carry her to it so she knows where to go.
Add a Mat
A mat outside the litter box can help collect bits of litter that your cat tracks outside of the box. Consider a sisal mat that your cat wants to scratch, as it will encourage her to clean her paws before traipsing throughout the house. You can also use a rubber mat with open holes, such as garage mat material sourced from a hardware store, if your litter box is on a hardwood floor. The litter will gather in the holes and you can vacuum or sweep it up. Some litter boxes are sold with a built-in mat.
Trim the Fur
Long-haired kitties can gather bits of litter in the fur between their toes. Trim the fur with clippers made for pet grooming if your cat is amenable to the procedure. If your cat doesn't like to have her paws touched, ask your vet or a professional groomer to get rid of the excess hair to make sure the trim job is done safely.