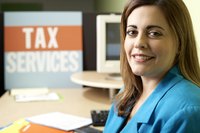 Changing your business name can cost money as you may need new business cards, promotional material, brochures, website and other items in your business. However, sometimes a business name change is a beneficial option when the focus of the business changes or if you choose to add partners. One of the most important aspects of changing a business' name is filing a business name change with the IRS based on the type of business that you operate.
Pull out the tax return that you filed for the previous year as a sole proprietor. On the tax return, the Internal Revenue Service lists an address to send a paper copy of the tax return, form 1040. Single Member Limited Liability Companies (LLC) should use this same process. Prepare a letter that notes the previous name of your business and the new name of the business, including the date the name change was official based on approval of the owner. Send the letter to the address listed on the bottom of the tax return and make sure that the document is signed by the business owner. Make sure that you send a signed letter regarding the name change to the secretary of state in which you operate your business and where you initially registered.
File your taxes for the current year for a corporation. When preparing the documentation, mark the name change box on the Form 1120 or the Form 1120 S. If you have already submitted your tax return, then look at the address listed on your tax return and send a letter to inform the IRS of the name change. The letter must be signed by a corporate officer for the IRS to process the document and consider it valid.
Prepare the current year's tax form 1065 for a partnership and mark the name change box at page 1, line G, box 3. If you have already submitted your taxes, then write to the address listed on your tax return. Notification of a name change needs to be signed by one of the business partners. Limited Liability Companies with more than one member should use the same process as a partnership.