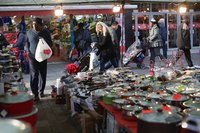 You can sell cookware from home by setting up a website or organizing demonstrations at trade fairs or private events. To get strong sales, select quality products with wide consumer appeal and build a broad base of prospective customers who need to buy their first cookware or replace existing products.
Choose a Supplier
You can obtain your supply of cookware by buying from wholesalers or by participating in sales programs run by cookware manufacturers. If you buy from a wholesaler, you plan and organize your own sales, marketing and distribution operations. Joining a manufacturer's program gives you access to a range of standard sales and marketing resources such as party plans, promotional material and incentives.
Find a Wholesaler
Visit wholesalers' websites to view the range of products available. Look for branded products that have a reputation for quality and reliability. Choose a range that enables you to offer your customers a wide choice of types and sizes of cookware. Review wholesalers' terms and conditions, including guarantees and returns policies. Check discount levels so you can sell at competitive prices and make a profit. Review delivery options to see whether wholesalers will deliver directly to your customers. Find out whether wholesalers provide promotional material to support your sales efforts.
Join a Sales Program
By joining an established sales program run by a manufacturer, you can take advantage of established sales and marketing techniques that have delivered results for other vendors. The Cookware Manufacturers Association provides a list of manufacturers, together with contact details. Manufacturers generally offer a range of programs to target different markets such as newlyweds, gourmet cooks and health-conscious householders. Manufacturers offer training courses to develop your product knowledge and sales technique, in addition to incentives that reward your performance.
Organize Demonstrations
To demonstrate your products to potential customers, organize a themed event such as a bridal party or dinner party, or set up a stand at a trade fair. Invite friends and family and build a prospect mailing list. Offer an incentive to attend, such as a special discount or free gift. Arrange a demonstration of the products at the event, highlighting any special features such as easy cleaning or good heat retention.