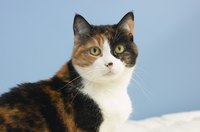 Feeding your cat homemade wet food can help improve its health and energy levels. Cats with digestive and gastrointestinal problems may find symptom relief from a homemade, raw diet. In the wild, cats consume a raw diet that consists of meat, bone and organs. You can prepare your own raw wet cat food at home to help your cats eat a more species-appropriate diet.
Things You'll Need
Meat grinder
Raw chicken or rabbit meat
Raw heart
Raw liver
Eggs
Raw glandular supplement
Salmon oil
Vitamin E capsules
Vitamin B capsules
Salt
Psyllium Husk Powder
Whisk
Plastic containers
Plastic sandwich bags
Remove half the skin from 4-1/2 pounds of raw chicken or rabbit meat. Choose legs and thighs over white meat if you use chicken. Cut the meat into bite-sized pieces and set it aside.
Grind the skin, 14 ounces of raw heart, 7 ounces of raw liver and bones from the meat in a meat grinder. Use hearts and livers from the same type of animal as the meat you use. Place the ground mixture in a container and refrigerate it.
Fill a bowl with two cups of water and add four raw egg yolks, four capsules of a raw glandular supplement purchased from a vitamin store or pet supply store, 4000 mg salmon oil, 800 IU of powder from Vitamin E capsules, 200 mg of Vitamin B capsules and 1-1/2 tsp. salt with iodine. Whisk the mixture together until it's blended well. Add 4 tsp. psyllium husk powder for additional fiber if you wish.
Mix the chopped chunks of meat with the ground skin, heart, liver and bones. Add the supplement mixture and stir all the ingredients together until the meat and ground items are equally distributed throughout the mixture.
Portion the mixture into individual plastic containers and freeze what you do not plan to use in the next 48 hours. Most average-sized cats will eat 4 to 6 ounces of the mixture per day.
Thaw frozen containers in the refrigerator as you need them. Scoop out each daily portion into a plastic sandwich bag and run it under hot water to warm it just before serving your cat.
Add two to three drops of salmon oil to your cat's food every two or three days. The freezing process can destroy some of the essential fatty acids in the oil, so it is a good idea to refresh it.