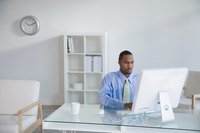 If you are looking to start a business that helps people get their finances under control, consider starting a debt settlement business. A debt settlement company works with consumers to negotiate final payoff amounts with creditors that the consumer can afford. For many people, turning to a debt settlement professional may be an alternative to filing for bankruptcy. Before you start your debt settlement business, you will need to do research to make sure you are following the law with your new venture.
Become familiar with debt settlement in general, how it works and how the business works. If you have not worked in the debt settlement field before, then it may be a good idea to take on a job in an existing debt settlement company to find out how the industry works.
Research the laws of your state and find out what financial certifications you need to possess to start your own debt settlement company. If you are not qualified to accurately determine these rules on your own, hire an attorney and work closely with him to get your certifications.
File a business certificate with the local government business office, and also find out what other applications or certifications you need to file for your business as well. In the financial sector you may need separate certifications for your business and for yourself in order to legally run a business.
Become a member of any national, regional or local debt settlement organizations and become completely certified by these organizations as well. Having national debt settlement certifications can give customers a feeling of confidence in your company, and it can also show that you care enough about what you do to maintain a national certification. It could also give customers the feeling that you maintain current industry knowledge in order to keep your certifications current.
Pursue other financial certifications aside from the certifications required to start your business. It would be beneficial to your business and add credibility to you as a financial professional if you were also a certified financial planner or accountant on top of being certified in debt settlement.