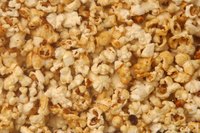 The world is going green, and environmentally-conscious consumers have discovered a way to ship products without using the dreaded Styrofoam packing peanuts: popcorn! While it isn't a perfect solution--natural oils can damage or discolor paper products, and it's heavier than Styrofoam--popcorn is cheap, easy to use, and won't clutter up landfills like some other materials will. Perhaps the biggest benefit is that after you've finally put that package in the mail, you can reward yourself with a movie and your leftover packing materials.
Place a layer of popcorn in the bottom of the box. Make sure the popcorn covers the bottom of the box completely: you should not be able to see any of the box through the popcorn.
Place the object to be shipped on top of the popcorn. Center it, so that you can surround it with popcorn.
Place popcorn around the sides of the object you are shipping.
Shake the box gently from side to side to help the popcorn settle.
Add a final layer of popcorn to the box. Make sure the popcorn surrounds the object you're shipping, and covers the top completely. The popcorn should reach the top of the box so there is just enough room to close the box and tape it up.