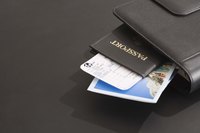 American Express Travelers Cheques provide a safe alternative to carrying money around in a foreign location. You can exchange them for cash or use them to pay for goods and services. Signing your Travelers Cheques in the upper left corner as soon as you receive them provides protection if they are lost or stolen. A Cheque can't be cashed unless the signature given at the time of the transaction matches the original signature.
Things You'll Need
American Express Travelers Cheques
Pen
Photo Identification or Passport
Go to a bank or foreign exchange location that accepts American Express Travelers Cheques to exchange them for local currency. Use them as a form of payment at retailers, restaurants or hotels that accept Travelers Cheques.
Write the date in the upper right corner on the front of the Cheque. Write the name of the business on the "pay to the order" line.
Sign your name in the lower left corner on the front of the Cheque on the line provided. The cashier or merchant should watch you sign and verify that your signature matches the original signature in the upper left corner of the Cheque.
Provide photo identification or your passport if requested. Requirements vary by country.