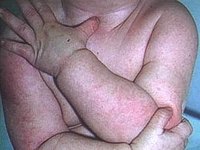 Cure Eczema Naturally at Home. Nearly 10% of babies develop eczema and 1 in 18 adults. Eczema is a type of skin inflammation and can be very irritating. Easing the symptoms and treating your eczema can be very simple and done at the comfort of your own home!
If your baby or child has eczema, you might want to preform the following steps while they are asleep. This is to avoid any temptation at scratching the eczema and irritating it even more.
Things You'll Need
coconut oil
flax seed oil
Before applying anything to the eczema you want to clean it of any dead skin cells on the top surface. Wet a wash cloth with hot water and rub the eczema infected area in small gentle circles. Let it air dry.
Mix 1 part coconut oil with 2 parts flax seed oil. With clean fingers apply a thin layer on the eczema. This works miracles on eczema and targets both symptoms of eczema as well gets rid of the eczema completely over time. You will notice relief very shortly.
Apply the oil concoction to the eczema before you sleep then wash it off in the morning. If you can, try to apply the oil throughout the day as well. You should notice results within a week!
If you have any allergies the eczema might return despite any external treatments. Make sure you check with your doctor and take allergy tests to make sure it is not due to internal affect. Good luck!