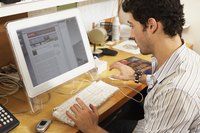 Ebay is an online auction website where both individuals and businesses can sell products and services. It is free to open a seller account on eBay; however, a small fee is charged for every item sold. Sellers who are serious about making money online usually have a website where they sell their items in addition to selling them on eBay. With eBay's ability to reach a worldwide audience, linking a website to eBay makes perfect sense as this will help to build a customer base. However, eBay does not allow its sellers to link to their websites directly from their listings. It is possible though to link eBay to your website using a few indirect methods.
Create an "About Me" page by signing into your eBay account and clicking the "Community" tab at the top of the page. Scroll to the bottom of the page and look under the heading "More Community Programs". Click on the text that says "Create an About Me Page" and follow the steps provided. Add a link to your website when prompted to add "Favorite Sites." Consider adding things such as your contact information, auction terms and conditions, and your postage prices to the About Me page.
Link to your About Me page in the body of your auction listing description; for example, you could write "Visit my About Me page to read more about my business and read feedback left by other buyers." Be sure to use the HTML option when creating auction listings so that you can link the text directly to your About Me page.
List your website's URL whenever you leave feedback for anyone, no matter if you are the buyer or seller in the transaction. An example would be something like "Great Transaction…Thank You [www.yourwebsite.com]."