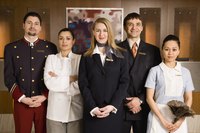 Many people in the service and hospitality industry depend on tips as part of their wages. The federal government even allows those employers to pay lower than the federal minimum wage to account for tips. The trick is knowing just how much to tip each worker since the length and importance of the service varies. The industry does have some standards to help the confused tipper.
Most porters and skycaps charge $2 per bag. If they do not charge that amount, you should tip that amount. If you happen to arrive late, and they help you get to your flight on time, tip an extra $5 to $20.
If you need the assistance of a wheelchair pusher, $5 is appropriate. Tip more if the person helps with your luggage. Tip $1 to $2 per bag depending on quantity and weight or if they help you to your car. If you need to be pushed a long distance, tip $10 to $20, plus extra for luggage.
Taxi drivers always expect a tip of 10 to 15 percent of the fare. Tip an extra $1 or $2 if the driver helps carry your bags.
The doorman or bellhop at the hotel may help you with your bags. The proper amount is $2 for the first bag, then $1 for any extra bags. In some cities, add another $1 if the doorman hails a cab for you.
The housekeeping staff will clean your hotel room, replace the towels and turn down the bed. Depending on the type of hotel you are staying in, tip $1 and $2 per person every night. In higher end hotels, $3 to $5 per day is appropriate. Leave a note specifying the money is for them, because you may have a different person each day.
Tip the driver of a tour bus $2 to $3 per day. If the bus has a guide, tip that person $1.
If you use a concierge, tip $5 to $10 for any service above and beyond their job description. That would include obtaining hard-to-get dinner reservations or theater tickets.