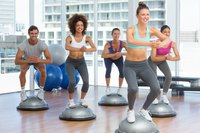 If you want to be an aerobics instructor, you'll need the right certification and training to get the attention of a gym. By specializing in specific types of aerobics, you can make yourself an even more attractive job prospect. Some aerobics instructors work multiple jobs rather than trying to teach classes full time, which can be exhausting.
Education Requirements
Most fitness instructors have at least a high school diploma. Many gyms and other employers prefer their fitness instructors to have an associate or bachelor's degree in a related field. Preferred degrees include physical education, exercise science or even nutrition or kinesiology. In addition, you should get certified in CPR before seeking a group fitness instructor certification.
Certification Classes
You'll need certification from programs that are accredited by a third-party, like the National Commission for Certifying Agencies. The American Council on Exercise (ACE) offers a group fitness instructor certification that has networking connections with several popular gyms. The certification exam cost $249 as of 2014. If you don't already have an education in anatomy and kinesiology and a fitness background, you can purchase the study materials, which take about 12 weeks to go through. The Aerobics and Fitness Association of America also offers certifications that are respected by gyms around the world. The online primary group exercise certification cost $299 in 2014, and you have one year to complete the program and take the exam. All certification exams test applicants' knowledge of exercise techniques, fitness levels and physiology through a written exam. Some exams also include a practical component. After getting your general certification, consider an additional specialization in an area that interests you, such as Zumba, kickboxing, YogaFit or BeachBody.
Work with a Mentor
Although you could start working as an aerobics instructor as soon as you have your certification, you'll likely do much better if you partner with a mentor. A mentor who's been in the business for awhile can show you tips for conducting a better class and give you advice on how to deal with your clients and help them with specialized fitness issues.
Contact Local and National Gyms
When you're looking for jobs teaching aerobics classes, contact both national chains and local gyms. For chains, you can apply for a job online, either through a job board or directly on their website. But don't forget smaller locations. Call or visit local gyms and find out if they offer group instructor classes. Look into other businesses or organizations that might offer group classes, such as country clubs, universities, community centers or hospitals.
Specialize in Multiple Jobs
If you work as a group instructor full-time, 40 hours a week, you might get overly exhausted and have a hard time keeping up with the demand. Some aerobics instructors choose to have hybrid jobs where they teach part-time and perform another fitness-related service part-time. For example, they might work the front desk or in sales for a gym or they might offer their services as a wellness coach to individuals in the community.
Job Outlook and Salary
Group fitness instructors made an average $37,790 a year in 2013, according to the Bureau of Labor Statistics. The expected growth rate between now and 2022 in 13 percent, about the same as the national average for all jobs. The five states that employ the most fitness instructors are California, Illinois, New York, Texas and Florida, according to the BLS.