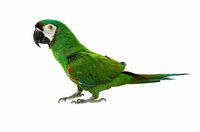 Parrots are active, intelligent creatures that are quickly becoming popular in the pet market. Like children, parrots need time to get out of their normal environments and play. This can be achieved by setting up a play stand or play gym in a bird safe area of your home. Play stands come in a multitude of shapes, sizes, and models. Play stands can accommodate just about any size parrot. The cost of a play stand can be intimidating, but the good thing is, you can easily build your own. Many parrot owners build a play stand for their bird using PVC and vet wrap.
Things You'll Need
How To Build A Parrot Play Stand
Draw out your play stand ideas. Map out your plan according to your space requirements. Your stand can be as simple as a one-story play area, or complex as a multi-story play facility.
Cut your PVC pipe down to size using your PVC cutters. Cut the PVC according to the plan details you mapped out in the previous step.
Begin to assemble the gym. Use the PVC fittings to hold the PVC pieces together. This is the fun part! You may choose to modify your plans slightly as you begin to piece the gym together.
Assemble the gym to your liking. Once completed, identify the main perching areas your bird will use. At these areas, wrap the pipe in vet wrap. The vet wrap will provide a non slip grip surface for your bird. Vet wrap comes in many colors so have fun mixing and matching the colors to suit your preferences.
Ensure that all PVC pipe and joints are fitted together securely. Once the stand is completed, introduce your bird to the stand.