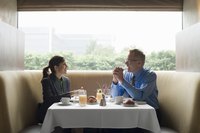 You need to think like your client thinks to successfully sell him on your marketing idea. Paramount are that the idea is successful and that he can afford it. To prove the first, you need to understand your client's marketing goals and how well the idea fits in with them; his immediate need may be to encourage feedback from existing customers versus attracting new customers, for example. The second isn't just a matter of his marketing budget -- your idea may also require him to redirect employees to other tasks, leaving him thinly staffed in existing areas.
Understand the Existing Marketing Status
You are just selling one idea and not an entire plan, so you need to ensure the idea fits in with the client's existing marketing plan so you don't disrupt the current marketing momentum. For example, if you are proposing the client use public relations, and none is mentioned in the current plan, you can portray how seamless it is to invite an editor to a trade show booth for a demonstration and possible interview without incurring additional costs, since the company will already be attending. Remember, change and disruption can be scary and can also ruffle feathers of others who own the current marketing machine, so establishing that your idea fits in rather than stands out is a practical approach.
Use Case Studies
Your past success record is important. Demonstrate that you have personally led other, similar clients to success via identical -- or close to identical -- marketing ideas. One strong way to do that is through customer case studies. With your other clients' permission, summarize the challenge each client faced and how your marketing idea solved it. Case studies can be more effective than references because they tell a story -- from pain to progress to success. If you can't get permission to use actual company names, simply substitute "Company A" or "Manufacturing Client A."
Provide Painstaking Budget Detail
Unexpected surprises are usually good for holidays and birthdays -- not marketing budgets. Detail the expenses as accurately as you can. Provide a cost overage estimate to account for vendors unexpectedly raising their prices later. Break out your consulting costs and explain exactly what you will be doing. Explain how plan execution can be woven into the daily activities of internal staff, so it's not adding more to their existing work load. In short, explain how your marketing idea will allow the marketing staff to work smarter -- not harder.
Provide a Measurement
Measuring marketing success doesn't have to be a challenge. It's true that a marketing goal of "raising awareness" can seem nebulous, but if you conduct surveys prior to plan execution indicating what influences the target customers, followed by post-plan surveys to gauge success based on their recall, for example, you are giving your client one measurement of success. You can also measure the number of leads generated for the sales team and compare it to the number of similarly qualified leads they had at the same time the year prior. A higher number of qualified leads can indicate a better marketing return on investment. Detail how measurement will be conducted to further sell your idea.