When treating a wound it is necessary to use extreme caution, particularly if the wound is draining. Properly covering the wound and caring for it is vital to keep the area from getting infected. Whether you have the wound yourself or are treating a wound for someone, there are important steps you should take to ensure speedy healing, less risk of infection and minimal scarring.
Things You'll Need
Nonsterile plastic gloves
Sterile bandage
Antibiotic ointment
Hydrogen peroxide or chlorhexidine
Lysol, Pine-Sol or bleach and water solution
Step 1
Wash your hands for at least 30 seconds before treating the wound, taking care to lather well and wash the entire hand. Use a hand sanitizer that contains isopropyl rubbing alcohol if you cannot wash your hands.
Step 2
Put on a pair of nonsterile plastic gloves before touching or treating the wound.
Step 3
Wash the wound with chlorhexidine or hydrogen peroxide. Apply a clean, sterile bandage covered in antibiotic ointment or cream. Discard the gloves and put on new ones to wash the counters.
Step 4
If you must remove a soiled bandage, remove the bandage gently. Dispose of the dirty bandage and the gloves.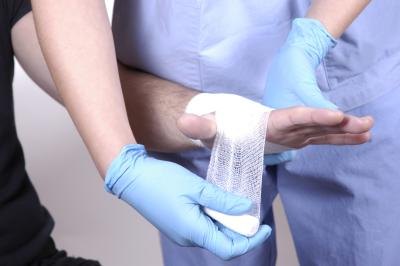 Step 5
Clean the area where you changed the dressing. Use a Lysol or Pine-Sol product or mix a solution of one-tablespoon bleach to one quart of water and wipe down all surfaces with the solution. Toss the used gloves and wash your hands again.
Step 6
Change the bandage whenever the doctor recommends, or when it gets wet from the drainage site, according to the Texas Department of State Health Services website.