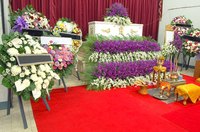 If you are a widow or widower, executor or other personal representative of someone who died and had financial assets or was a wage earner, you will need to file a final tax return for the deceased. In many cases, it is a simple process and you don't need any special expertise. If the deceased had complex finances, it might be prudent to hire an accountant to file the individual's final return.
Things You'll Need
Form 1040, 1040A or 1040EZ
Form 1310
Personal Representative court certificate (if applicable)
Decedent's income and expense records
Use IRS Form 1040, 1040A or 1040EZ to file taxes for a deceased taxpayer if you are a surviving spouse or court-appointed personal representative of the decedent (the person who died). However, if you are a surviving spouse and you normally filed a joint return, filing a separate return for the decedent is not required. If you are a court-appointed personal representative, attach a court certificate that verifies you as such.
Fill out Form 1310, Statement of Person Claiming Refund Due a Deceased Taxpayer, if you are an heir other than a surviving spouse or a court-appointed personal representative and a refund is due.
Write the word 'Deceased' after the decedent's name in the name and address section of the final return. Also, write the date of death across the top of the final return.
Sign the return in one of the following ways:
If you are a surviving spouse, sign the return in your name and write "Filing as surviving spouse" where your spouse would have signed.
If you are a personal representative of the deceased, sign the return in your name, followed by "personal representative."
Use either the accrual or the cash method to compute income, deductions, taxes and refund due, if any. Choose the method that the decedent used on past tax returns.
The cash method, the one most people use, would show decedent's income and expenses prior to his death.
The accrual method is more complex. Some people with business interests use it. If you have never used the accrual method, you should consult an accountant. IRS Publication 559 (Survivors, Executors and Administrators) outlines rules that pertain to survivors and personal representatives. IRS Publication 538 (Accounting Periods and Methods) outlines the accrual method.
Consult an accountant if the decedent had a trust fund, whether foreign or domestic. The tax laws concerning trust funds are lengthy and complex. You may need to file a Form 1041, Schedule J.
File Form 706, an estate tax return, if the decedent's estate is worth more than $5,120,000 before expenses and deductions.