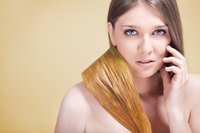 In contrast to injectable options, instant wrinkle fillers don't actually penetrate the skin -- they rely on active ingredients such as hyaluronic acid, retinoids or silicone to temporarily plump the skin or fill in lines, like a sort of spackle for the face. These products typically call for a straightforward application -- dabbing lightly is absolutely key -- but fillers vary by brand, so read and follow any instructions provided by the manufacturer before you get to filling.
Things You'll Need
Wash your face with the gentle cleanser of your choice and pat it dry with a clean towel. A freshly washed face promotes product adhesion by cutting back on natural oils.
Apply the filler in a targeted fashion, concentrating only on fine lines and wrinkles. If your product has a narrow applicator tip, you can squeeze a tiny amount -- visualize how much product you'd need to actually "fill" a small wrinkle -- directly onto the line. Otherwise, apply the filler to the tip of your ring finger -- which encourages a light touch -- lightly coating the finger. For thicker fillers, spread a bit onto the back of your hand and then gently touch your finger to the filler.
Dab the product lightly over the targeted areas. Rather than smearing or spreading the filler, pat it on to encourage it to settle into the lines. Give each area a thorough patting, working back and forth across the wrinkle a few times. Allow your face to rest for one to five minutes to give the filler time to set.