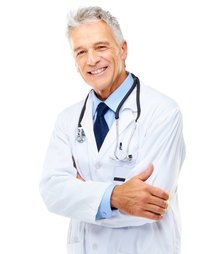 Anthem Blue Cross Blue Shield (www.anthem.com) makes it easy for its members to search for doctors and/or facilities that are part of the Anthem network. Anthem currently has offices in 14 U.S. states, but there's always the possibility of needing medical care while traveling outside of the coverage area. If the need arises, members can quickly locate Anthem-approved doctors and/or facilities to provide needed medical care. This convenient service can be accessed 24 hours a day, 7 days a week.
Visit the Anthem website and click on the "Find a Doctor" link. Although it's not required to log in with a user name and password or to have the Anthem ID card at this point in the search process, it's wise to have this information on hand because the ID card information will be required later on.
If you're a current Anthem member and have not registered to access online information, click on the "Register" link and complete the necessary information.
Select one of the 14 states covered by the Anthem program and click "Enter." Or, if you're traveling outside of the Anthem coverage area and are looking to find an in-network doctor, click the "National Accounts" option instead of selecting a state.
Click the "Find a Doctor link" on the Anthem site to access the Provider Finder page. Anthem members must insert the first three identifying letters from the Anthem Blue Cross or Anthem Blue Shield ID card. Nonmembers, also known as guests, must select the type of plan (either PPO, Traditional or Alternate Network) and click "Next."
Insert the search criteria, including your address, type of physician and the distance you're willing to travel. After inserting the pertinent information, click "Next"; Anthem will display a listing of doctors and/or facilities that meet your search criteria.