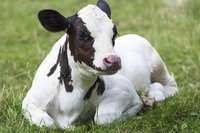 Miniature cattle are dwarfed by their full-size counterparts by at least 50 percent, and are a great choice for both the modern hobby and gentleman farmer. No longer is it necessary to have the back 40 acres to share your life with a herd of cattle. These small bovines require less pasture space, produce less waste and are less daunting as pets than their half-ton equivalents.
Startup and Other Considerations
The beginner owner of miniature cows should expect some startup costs when establishing the right environment. The first consideration is the cost of the cattle itself. According to Pat and Elia Schout, homesteaders hailing from central Illinois, miniature cattle can range in price from $1,800 to $3,500 per head. Milking miniatures, for example, also are deserving of other considerations, especially for the established farmer. One example, according to Pat Schout, is the possibility that you may have to sit on the floor during hand milking.
Rolling Hills Not a Must
As scenic a picture as hundreds of acres dotted with cows may create, these rolling hills of pasture are simply not necessary for the miniature cow. On average, pasture size need only measure 1/2 to 1 full acre per cow. Pastures can be sectioned off to allow for rotation. Miniatures can be sustained nicely on grazing, given that the rumen, one of the cow's four stomachs, has sufficient bacteria to convert grasses into both milk and beef. Paddocks should be shaded against the hot summer sun. Standard cattle fencing is sufficient for keeping your cows from wandering off and perhaps jumping over the moon.
Some Big Eaters
Rotational grazing can keep your mini cows happily fed from March through November, except in extremely inclement areas where the grazing time may be shorter. You'll need to budget for hay during inclement times, keeping in mind that cows eat a lot of it. The average cow will eat between 2 percent and 4 percent of its body weight in hay. Given average hay costs of $5 per bale, and an average consumption of 2.5 pounds of hay per day by a 600-pound mini cow, hay will put a dent in your budget to the tune of approximately $500 annually if it must be purchased. Supplements such as salt block and kelp to keep your bovine clan healthy, and an occasional handful of sweet feed for good behavior must be considered in the cow paraphernalia budget, especially given that mini cows have an average life span of 15 years, or longer in some cases.
Basic Accomodations Required
While miniature cattle are simpler to control by way of their reduced weight, they still share some basic needs with their larger counterparts. One of these is shelter, especially from the harsh elements of inclement weather. A standard barn with box stalls 8-by-8 or 8-by-10 in size is sufficient to house these small cows. Cows are herd animals, and while they don't necessarily have to live with other bovines, they'll happily bond with other barnyard pets, with only minor exceptions, such as horses who might want to chase their bovine companions.
General Health Care
Miniature cattle require a 7-in-1 immunization annually from a large-animal veterinarian. In addition to routine care, small cattle owners should be on the lookout for ticks and flies, which can cause injury, illness and extreme conditions such as paralysis. A consultation with your veterinarian can help educate you on the right products to use to protect your miniature cattle from these pests.