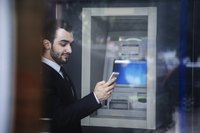 GE Capital Bank is based in Utah and deals mainly with small and mid-size business clients, but it also holds personal accounts. The bank is owned by the GE corporation and is a member of the Federal Deposit Insurance Corp. Contacting GE Capital Bank requires different steps for different types of customer.
Business Customers
Business customers have access to live customer assistance by phone at 800-333-1082 from Monday through Saturday from 8 a.m. to midnight Eastern time, and Sundays from 11a.m. to 9 p.m. Eastern. Automated systems are in place 24 hours at the same number. Business assistance is also available online through a dedicated request page.
Personal Banking
Check the back of your credit or debit card to locate the local service telephone number that is dedicated to serving customers in your area. The number is also printed on your monthly statement. The general number for individuals to contact GE Capital Bank is 866-419-4096. Customer service is available from Monday through Friday 7:30 a.m. to midnight Eastern time and Saturday from 10 a.m. to 7 p.m. Eastern. There is no access on Sundays.