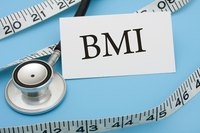 BMI, or Body Mass Index, is a number that indicates the body's fat level. The number is important because it can be used to determine whether an individual is overweight, or even obese. Being overweight or obese can lead to a range of health issues, such as heart disease, high blood pressure and Type 2 diabetes. BMI for adults is measured regardless of gender. However, according to the Centers for Disease Control, among women and men with identical BMI, women tend to carry more body fat. Moreover, older adults tend to have more body fat than younger adults with the same BMI.
Things You'll Need
Measure your height, using the tape measure. The measurement may be more accurate if a friend takes it for you.
Determine your weight, using the scale.
Divide your weight in kilograms by your height in meters, squared -- if you are using the metric system. Example: 62 kg / (1.5 m) squared. In this example, the BMI is 27.5.
Divide your weight by your height in inches, squared -- if you measure your weight in pounds and your height in inches. Multiply the result by 703. Example: 135 pounds divided by 68 squared x 703 = 20.5
Check the result against the BMI table on the Centers for Disease Control and Prevention website. If the figure places you in the overweight or obese category, consult a physician for further testing.