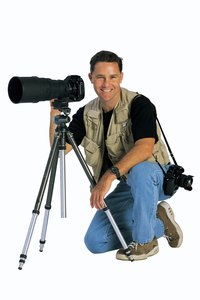 With training, a professional-quality camera, lenses, editing software and hard work, you can make money as a freelance photographer. Competition in this business is fierce so taking classes, mentoring with professionals and gaining experience through trial and error is helpful to mastering your understanding of photography, resulting in great shots that people will want to purchase. As a freelance photographer, you can make money by selling photos to publications, websites and stock photography agencies, by shooting events, and by selling your prints online and at fairs and galleries.
Learn the art of photography through classes, mentoring with professionals or by self-study, using books and trial and error. To make money and take marketable shots, you will need experience in setting up shoots and taking pictures. The freelance photography market is competitive and you need to have a creative vision and solid experience with lighting, angles, posing and creative concepts to have an edge. Print photos to build a portfolio that highlights your finest works.
Respond to local papers', magazines' and websites' solicitations for photographs. Local publications often use freelancers rather than maintain staff photographers. These organizations may pay by the photo and request that you attend and photograph specific events. Attending the event is not necessarily a guarantee your photos will sell, however; review the publication or website in advance to determine what type of photos it typically publishes. Establish a solid relationship with an editor who will contact you for future assignments.
Set up a website to display your photographs and sell your photos online. Contract with a web design company that specializes in photography websites, such as PhotoBiz. Spread the word about your site to your friends and family. Send postcard mailings and post flyers locally to advertise your site. Participate, as a vendor, in local craft shows and community fairs to sell prints at these events.
Purchase the Photographer's Market or subscribe to the Artist's Market online. The Photographer's Market is a book updated and published annually, while the Artist's Market is the online version of the book. Both contain listings of thousands of publishers, consumer magazines, trade publications, greeting card companies, stock photography companies and advertising firms, along with contact information and information on how to submit photos to each. Follow the procedures to submit queries to publications that match your style.
Offer to take pictures at friends' and relatives' weddings for a nominal fee. Advertise on online classifieds, your website and in local publications to photograph events such as weddings, birthday parties and holiday parties. Post flyers advertising to take portrait photos. Ensure your flyers show your best photos and include your website and phone number. If customers like your work and pricing, you will get more freelance jobs through referrals.
Frame several of your best shots and visit cafes and galleries to inquire if they would display and sell your work. Negotiate distribution of the sales, as the owner will likely want a percentage of each sale. If you have the opportunity to display your work in a gallery, ask about the typical buyer and coordinate photo themes that might sell best in that region.