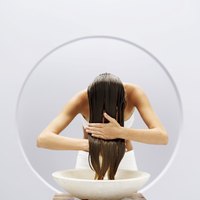 This simple and natural hair treatment is a great way to strengthen weak or brittle hair. The treatment includes seaweed to help strengthen your hair and leaves the hair moisturized and shiny. The apple juice in this treatment helps gently cleanse the hair and gets rid of any excess oil or residue from your regular hair-care products. Use this hair treatment for weak hair once every two weeks.
Things You'll Need
1 tablespoon dried hijiki seaweed powder
1/2 cup apple juice
Warm the apple juice in a small pan, with the heat set to low. Heat the mixture for 5 to 7 minutes.
Remove the apple juice from the heat, and then slowly pour in the seaweed powder. Stir gently until the juice and powder are thoroughly combined.
Allow the mixture to reach room temperature. Pour it into a spray bottle.
Spray or pour the mixture onto damp hair. Wait 15 to 30 minutes, then rinse with cool water.