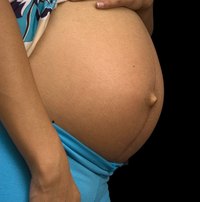 Early labor signs may go unnoticed at first because they start off rather low-key before accelerating to active labor. However, by paying attention to your pregnant body, you can learn to recognize and interpret the signals your body sends to let you know you're in early labor and a new baby is imminent.
Here's what you need to know to spot early labor signs.
Learn the difference between Braxton Hicks contractions, also called "practice" contractions, and the real thing. Early labor contractions may feel similar to false labor at first, insofar as they are relatively painless for many women, but when it's the real thing the contractions will progress, becoming longer, stronger and closer together over time.
Early labor signs are marked by contractions that are felt both in the lower back and around the abdomen, while false labor is usually felt as a tightening just in the abdomen/ baby belly.
Be aware of a a sudden burst of energy that is manifested as the mom-to-be cleans, organizes, and otherwise prepares for her new baby's arrival with renewed vigor toward the end of the pregnancy. This "nesting" syndrome is often one of the earliest signs of labor as hormones produced in the woman's body fuel her last-minute preparations.
Take note of the baby "dropping," or descending lower into the pelvis in the final days before the onset of active labor. As the body prepares for birth, the baby's head find a more snug position lower down, and the mother will feel the difference as increased pelvic pressure and a relief of pressure on the diaphragm. Breathing may become easier, while walking will be more uncomfortable.
Check for "bloody show" after strong contractions. The loss of the mucous plug in early labor is an excellent sign that things are progressing. Expect it to be somewhat cloudy and tinged red or pink.
Look out for a gush of waters or even a slow trickle that lets you know the membranes have ruptured and labor, if not yet begun, is imminent. Be sure to notify your midwife or doctor if this sign of early labor happens, as you will need to deliver within a certain time frame (which may vary according to your health care provider) once your water breaks.