Things You'll Need
Needle
Rubbing alcohol
Antibacterial ointment
Gauze
Second skin
Bandage
Having blisters on your feet can be extremely painful and irritating, especially if you are someone who exercises a lot and needs to maintain your feet in optimal condition. Blisters form as a result of the heat produced by friction inside your shoe. Hot spots form on the skin of the foot and the body produces liquid to cool down the area. This creates a bubble on the skin that is vulnerable to infection and usually quite painful. Moist, sweaty feet are particularly susceptible to blisters. Blisters are generally minor problems but you should treat them as soon as possible to avoid a potentially serious bacterial infection.
Instructions
Step 1
Remove your socks and sneakers to treat the blister. Blisters come in all shapes and sizes. You may notice a small bubble on the skin that is red and irritated. The bubble also may have already popped, exposing the weak new skin underneath.
Step 2
Use a sterilized needle, drain the blister of fluids. Dip the needle in rubbing alcohol to sterilize it. Gently puncture the bubble in two places to drain the fluid. You shouldn't feel anything if you do this correctly. Gently squeeze the fluid out of these tiny holes until the blister is empty. Do not remove the deflated skin cap because this will protect the raw skin underneath.
Step 3
Treat the area with a mild antibacterial ointment or cream such as Neosporin or Bacitracin. This will sterilize the area and prevent infection. Rub the ointment gently around the affected area being careful not to break the skin covering the blister. Pat down with a piece of gauze to clean off excess ointment.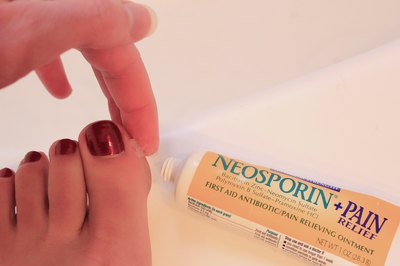 Step 4
Cover the blister with second skin or moleskin, which come in liquids and self-adhesive forms. These form a protective layer on the skin so the blister does not re-form. Cover the area completely.
Step 5
Cover the wound with a light bandage. Try to protect the wound while allowing it to breathe. Repeat these steps for a few days until the blister has healed and the skin beneath has hardened.