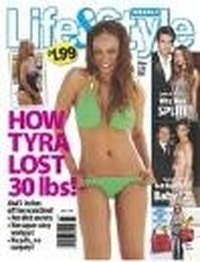 Tyra Banks's has lost a lot of weight fast within a six month timeframe. She doesn't believe in diets and said she didn't lose the weight with starving herself. Tyra Banks has lost 30 pounds by eating more healthy and exercising more often. Some of the foods Tyra has been eating includes: fruits, vegetables and more protein which speed up your metabolism and keep you less hungry. Tyra had decided to let everyone in on how she lost the weight with a plan called "Get Your Shape In Shape". To learn how to lose weight like Tyra Banks did and get your shape in shape, read the article below:
Lose Weight by Starting a Food Journal Get a notebook and write everything you eat down. This helps you take notice of what you are actually putting into your body and helps you to really get a clear picture of what you have been eating over a period of time.
Lose Weight by Eating Love 'Em Carbs There are Love 'Em Carbs and Leave 'Em Carbs. The ones you want to leave are pastas, bagels, candy, muffins and sweets. The Love 'Em Carbs include brown rice, corn, sweet potatoes, peas, beans, whole wheat bread and sauces. It's ok to use sauces as long as you don't over-do it and use too much.
Lose Weight by Eating More Fiber Try eating more fiber, such as two servings of fiber a day. Fiber foods include: High-fiber cereal, fiber crackers, Oatmeal, etc...
Lose Weight By Drinking More Water Stop drinking sodas (soft drinks) and even flavored water. Just drink pure water. A good idea is to drink a liter a day by lunch.
Lose Weight With Portion Control Try eating smaller portions. Your protein size should be the amount of two iPhones stacked. Your Love 'Em Carb should be the size of your clenched fist. The rest should be vegetables. You can eat as many vegetables as you want.