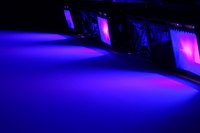 GloFish are genetically modified fish created through transgenic processing. The enhanced complexion of these fish is intended to be especially vibrant under the UV rays of a black light. The use and placement of your black light will determine the brilliance of your GloFish aquarium display.
GloFish Defined
GloFish were developed by a collegiate research team at the National University of Singapore. To create GloFish, a red fluorescent protein was expressed from a sea anemone and added to the genetic makeup of a zebra fish. Originally a novelty pet, zebra fish were the first GloFish and the only color was red. Since their inception, GloFish are available in a variety of fish species including zebra fish, danios, barbs and tetras. GloFish colors include starfire red, electric green, sunburst orange, cosmic blue, galactic purple and moonrise pink. GloFish are available in aquarium tropical fish stores and online.
Why Glofish Glow and Black Light Options
GloFish are colorful under ordinary aquarium lighting, but it takes a black light to fully appreciate their brilliant display. Black lights, also known as UV lights, emit only the ultraviolet levels of the electromagnetic spectrum. The phosphors present in GloFish absorb the fluorescing light and reflect these UV rays as especially bright, or glowing. Black light bulbs and fixtures are found in most places where home lighting is sold. With a GloFish manufacturers kit, the UV lighting is included. When purchasing a black light your choices include various sized fluorescent tubes, LED (light-emitting diodes) bulbs, twisted economic bulbs, wireless connective fixtures and multibulb panels.
Mounting Options
The black light over your GloFish aquarium should be mounted high enough so water emissions will not cause humidity damage. Use a black lighting system comparable in size to the width of your aquarium -- this will enhance the light spread on your GloFish display. One mounting option involves placing wooden blocks securely on each side of your aquarium, and resting your black light fixture on top. Another mounting option is to place an acrylic or polycarbonate cover on your tank, and setting your black light setup directly on the lid. For wall or canopy mounting, aquarium stores and online sites offer a variety of aquarium light mounting kits and hardware.
Do's and Don'ts
Don't use the black light continuously, like all fish, GloFish need the natural light changes that occur throughout the day. As with any lighting, your black light assemblage will heat your aquarium water. A thermometer should be used to keep water temperature in the 72 to 80 degree range. To keep your aquarium clear, use proper filtration or conduct partial water changes bimonthly. For the most colorful GloFish display, observe your black lit aquarium in a darkened room.