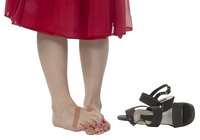 Tired, sore feet can result from more walking or standing than you're used to, or wearing ill-fitting shoes. Nothing can put a damper on your day like feet that hurt. You can soothe your tired, sore feet at home to avoid waking up with the same issue. A combination of at-home and store-bought remedies can help you get your feet back in shape so you can resume your normal level of activity.
Things You'll Need
1/2 cup Epsom salts
Towel
Washcloths
Ice cubes
Moisturizing lotion
Over-the-counter pain reliever
Mix 1/2 cup of Epsom salts with warm water in a foot bath or bathtub. Soak your feet for a minimum of 10 minutes to relieve soreness and increase circulation.
Rinse your feet and pat them dry with a clean towel.
Roll two or three ice cubes into each of two clean washcloths. Hold or rest the homemade ice packs on the areas of your feet that are still sore, such as the soles, heels or tops of your feet. Leave the ice packs in place for 10 to 15 minutes.
Apply a quarter-sized amount of moisturizing lotion to the palm of your hands and distribute evenly between both hands. Gently massage the lotion into your sore feet until absorbed.
Elevate your feet on a footstool for an hour or more to allow them to rest. Take an over-the-counter pain reliever as directed to eliminate any remaining pain.