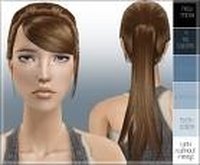 A great head of hair can make you look amazing.While people care about their skin ,get facials and pedicures we generally forget our hair.We shampoo it twice and we are done.But here are a few easy tips to take care of your hair and look great.No big expenses.We'll just try with some ingredients in the kitchen..
If you have dull and brittle hair,massage coconut or olive oil in the roots for 15 minutes.Do that gently.Leave hair oiled for about an hour and then shampoo.All these oils strengthen hair and give a natural shine to them.

Follow the first method and then steam hair with the help of a wet towel dipped in hot water and wrap around for 5 minutes.Be careful when you squeeze the water out of it.You may add another towel while squeezing

Alternatively,if you are using coconut oil,you may warm it for a minute .Now break open a Vitamin E capsule and pour the contents in the oil.Mix and apply to scalp as in the previous method.Vitamin E as we all know is very good for hair.

If you have a bit of dandruff in you hair: Take a small bowl of yogurt.Mix 2 tsp of lemon juice and 2 tsp of honey.Mix and apply to the scalp gently.Let it stay for 15 minutes.Rinse with water and shampoo.This will take care of dandruff and moisten the scalp .Also adds luster.

You may also wash your hair with cooled tea water.This is a natural conditioner.

Mash a ripe banana.massage onto the scalp for 15 mts.Let it stay now for another 15 minutes.Rinse and shampoo.Banana is a great source of magnesium and makes hair twice as healthy as they are.

Beat two egg yolks and add a tsp of lemon juice.Apply to scalp and let it stay for 20 minutes.Rinse and shampoo.Sounds a bit smelly but this is one of the best methods to add volume,shine and health to your hair.Highly recommended.

If you want instant shiny hair,put a little mayo in your hair and massage gently.Let it stay for 15 minutes.Rinse and shampoo properly otherwise hair may become a bit greasy.This is probably the best method to give instant shine to your hair.