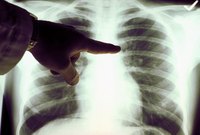 Early symptoms of lung cancer, when noticed, save lives. Since lung cancer was estimated to kill a quarter of a million people in the United States in 2004 early symptoms of lung cancer are worth being familiar with for the sake of you and your loved ones. Apply these steps regularly to catch lung cancer symptoms early.
~ Pay attention to any increased risks for lung cancer ~
Regularly reflect on whether or not any environment you are in causes you to have increased risk of lung cancer. Treatments for lung cancer are also sometimes specific to the perceived environmental stimulus for lung cancer disease. Smoking, second hand smoke in the home or in the place of work, exposure to asbestos in construction/demolition projects, and breathing of chemical vapors are all risk increasers and should be mentioned before lung cancer treatments. Also note if any close family member goes through lung cancer treatment and mention this to your doctor.
~ Have your home checked for radon gas ~
1 out of 15 homes are thought to have high levels of radon gas. Radon gas is the second highest cause of lung cancer in the United states. Since radon gas increases risks of lung cancer and is relatively unknown this is worth noting separately from the above more well-known risk factors. After all, the best treatments for lung cancer are preventative, not reactive.
~ Get full checkups with blood work yearly ~
This can help spot early warning signs of many things, not just lung cancer disease. However, if you are in a high risk category have a full cancer screen done as well on top of the physical and normal blood work. This way treatments for lung cancer can be started immediately at early stages if it occurs.
~ Immediately report any of the following symptoms to your doctor ~
Any abrupt change in coughing, long term cough, spitting up or coughing up blood, change in voice quality especially a gravelly or hoarse voice, shortness of breath, or any level of difficulty in swallowing. Also pay close attention to any consistent drop in energy level, change in your facial expression such as sagging or drooping muscles, or yellowed fingernails.
**See more tips on early detection to increase the success of treatments for lung cancer below.