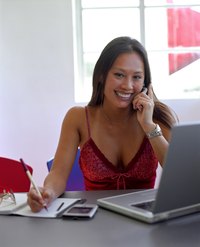 No matter what you think about the shift from print to digital media, the fact remains that online writing provides tremendous outlets for professional and amateur writers. The minute you write something, you can publish it for the world to read. The beauty is it costs the same to publish content whether 10 people or 10 million people read it. If you want to unleash your inner writer, plenty of opportunities exist, many of them paying ones.
Get experience. The ideal candidate for an online writing job has a bachelor's degree in communications, English or journalism. But, if you are an expert in your field, you can get your foot in the writing door that way, too.
Study the publication for which you wish to write. For example, if you are a handyman, you could land a writing position with a do-it-yourself online publication.
Visit freelance writer aggregator sites. These sites provide links to online writing jobs. Click on each link to determine what qualifications, if any, are required. Some jobs require a college degree; some require writing samples, and some require only your submission.
Comment on blogs you like. Once you understand the audience and tone of the blog and have shown you take an interest by posting a comment, you can pitch your blog idea to the blog's owner to ask whether you can guest blog for a fee.
Write an e-book. Think of an idea that you believe people would pay to read. "How-to" e-books are typically the best way to get your feet wet in this medium, according to Jim Edwards and Joe Vitale in their book, "How to Write and Publish Your Own eBook in as Little as 7 Days."
Market yourself. Create a website where you can display your work. Or set up a blog that you update at least twice a month to show prospective clients your style.
Sign up for an online job-bidding site. These sites offer all sorts of jobs, including those for online writing. Employers post jobs they want done, and freelance writers bid on them. If you win the bid, you complete the assignment and are paid. The bidding site takes a percentage for matching employers to freelancers.