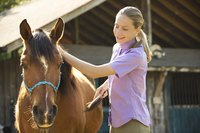 If your horse suffers from a musculoskeletal issue, he could benefit from homeopathic treatment. One such product, Traumeel, is administered either through subcutaneous injection or by rubbing the cream version into the affected area. Consult with your veterinarian before giving your horse Traumeel in any form.
Traumeel Uses
Traumeel contains various herbal ingredients. These include arnica, which helps to reduce bruising; echinacea, for immune system support; skin-soothing calendula; Symphytum officinale for pain relief and Hamamelis virginiana for soreness relief. In a 2011 article, the International Journal of General Medicine stated that Traumeel might be considered an anti-inflammatory agent "at least as effective" and apparently better tolerated than nonsteroidal anti-inflammatory drugs. The article notes that Traumeel doesn't have the gastrointestinal complications and other side effects common with NSAIDs.
Traumeel Cream
Applied topically, Traumeel has analgesic properties. Rather than just applying the cream to the horse, as with wound ointments, you must massage Traumeel into the affected joint or other area. In this sense, you use it as you would a liniment. Your vet will tell you how often to use the cream. While Traumeel has a high safety margin, don't use more cream than your vet instructs or more often than she advises.
Injectable Traumeel
If you don't know how to give subcutaneous injections, have your vet show you. Your vet might recommend injecting the Traumeel ampules daily when your horse is in the acute phase of an injury or lameness. Otherwise, she'll tell you how often -- usually several times weekly -- to give the injections and where to do so. Your vet should provide you with the narrow gauge needles necessary to perform the injections. You'll have to properly dispose of these "sharps," as they are medical waste. You likely can collect them and return them to your vet for disposal.
Side Effects and Contraindications
Don't apply Traumeel to any open wounds on your horse or any damaged skin. Use gloves or wash your hands immediately after applying the ointment form of Traumeel. Avoid getting the cream in your horse's -- or your -- nose, mouth or eyes. If this happens, rinse the affected area with water. Pregnant or lactating mares should not receive Traumeel. While the product is generally safe, side effects can occur. These usually consist of allergic reactions, such as hives or swelling. If your horse experiences such a reaction, call your veterinarian.