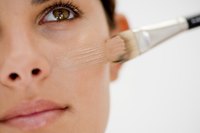 Some models and beautiful working women always seem to be successful professionally and in the beauty department. However, the secret behind flawless skin is more than genetics. Properly applied makeup creates the appearance of flawless skin. Project confidence and discover your inner beauty by implementing makeup tricks that can hide facial flaws, acne and blemishes.
Things You'll Need
Yellow-toned foundation
Stick foundation
Concealer brush
Face powder
Powdered bronzer
Blush
Matte eyeshadow
Lip-exfoliating cream
Select proper liquid foundation. Yellow-toned foundations work well for most skin tones. Test the foundation before you buy it. If the foundation disappears into your skin after you apply, the color suits your skin tone. Change your foundation too reflect skin tone changes, such as when you tan.
Cover breakouts and skin acne with a medium-weight stick foundation the same shade as your skin. Apply to the blemish with a concealer brush, rub in with your index finger and set with face powder..
Eliminate the double chin look by using powdered bronzer. Dust the bronzer along the jawline to add more definition to your chin. The bronzer minimizes a double chin by appearing to reduce your extra fullness. Use a matte powder, with no shimmer, that is two shades darker than your skin tone.
Select eye shadow with a matte finish. If you have fine lines around the eyes, use eye shadow with a matte finish to reduce the appearance of lines.
Blend bronzer and blush together to give your face a youthful glow appearance. Sweep the bronzer onto the cheekbones and the back of the ear, slowly brushing forward on the cheek's apple. Select a bronzer that is at least one to two shades darker than your skin. If you have light or olive skin complexion, select a peachy undertone. Use earthier tones, such as coral and sienna, if you have darker skin.
Avoid lipsticks or lip colors with phenol. Phenol can strip the little moisture that the lip has, leaving the lips drier and more irritated. Exfoliate your lips before you apply lipstick. Use lip-exfoliating creams or rub a warm, damp washcloth over your lips.