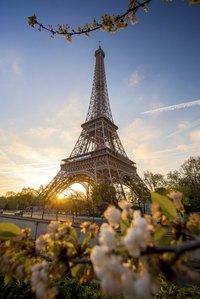 In an oh-so-French, rags-to-riches story, the Eiffel Tower transformed from the most hated monument in France a century ago to the toast of the town today. Built for the Paris Exposition in 1889, the tower was the tallest in the world; even before it was built, it became the most controversial. Some 300 luminaries, including writers Guy de Maupassant and Emile Zola, signed a petition against the construction of the "useless and monstrous" tower, and, 20 years later, plans were made to tear it down. Yet today the Tour Eiffel stands as the beloved symbol of the French nation and receives some 7 million visitors a year. You'll need to buy a ticket to ride the elevator the 1,050 feet to the top.
Decide when you want to go. The tower is open from 9 a.m. to just after 12:45 a.m. in summertime, and has slightly shorter hours in winter, 9:30 a.m. to 11:45 p.m. Note that the last lifts go up an hour or two before closing depending on the number of visitors. Daytime visits allow you to see the streets, parks and monuments of the city in all directions; heading up after dark gives you the romance of sparkling city lights and starlight. Anticipate shortened hours in truly awful weather.
Select your preferred ticket option. "Sportifs" might want to hoof it up the stairs, a less expensive and perhaps more rewarding option, although you can only climb one of those iron-latticework legs to the second floor. Most people take the elevator from the ground to the second floor, or to the top.
Identify the correct ticket category for each member of your party. Bring as many babies under 4 as your arms can hold since they enter free. Kids 4 to 11 years old have very reduced fares, as do handicapped people and those accompanying them. Young people to 24 years old get a slightly lower rate and adults pay the full ticket price.
Wait in the always-lengthy line to purchase walk-up or elevator tickets at the Tower base. Alternatively, for elevator tickets only, go to the official website of the Tour Eiffel and pay with a credit card. Print out the e-tickets or show up with the bar codes displayed on your cell phone.