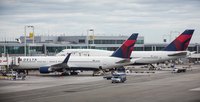 To reward customers for their loyalty to Delta, the airline sponsors the SkyMiles program. SkyMiles allows customers to collect frequent flyer miles and exchange them for flights, travel packages and other perks. To start earning frequent flyer miles, create a SkyMiles account. Each household member can open his own SkyMiles account to earn miles. You can transfer miles to another person, but Delta charges to do so.
Create an Account
To create a SkyMiles account, visit the SkyMiles website at delta.com and click on the "Join SkyMiles" link. Enter your full name as it appears on your driver's license or passport, gender, date of birth and Known Traveler or Redress number if you have one. Delta needs your email address and asks you to create a password, username and two security questions. If you don't create one, your SkyMiles account number becomes your username. Additionally, Delta needs your home address and phone number.
Earn Miles
Delta SkyMiles members can earn miles in a variety of ways including on Delta filghts and on partnering airlines. Delta no longer awards frequent flyer miles based on miles flown, but rather gives miles based on the price of your ticket. Depending on your membership level, you earn five to 11 miles per dollar spent on the ticket. You can also earn miles for booking travel packages through Delta vacations, as well as by booking hotels, rental cars and cruises with partnering companies. Other options for earning miles include shopping through Delta retail partners and opening a Delta co-branded American Express credit card.
Medallion Program
The Medallion program is the elite branch of the SkyMiles program and has four levels -- silver, gold, platinum and diamond. It offers additional benefits like unlimited complimentary upgrades, priority check-in and waived baggage fees. You reach Medallion status by having accrued a certain number of miles flown or having a minimum number of flight segments in a year and spending a certain amount of money on tickets.
Get Credit for Your Flights
When you book a Delta flight online, enter your SkyMiles number when you fill in all your personal information. If you book a flight over the phone, give the customer service rep your SkyMiles number. You can log into your SkyMiles account and add your number to your flight reservation any time before the flight. According to Delta, most miles post to your account within 24 hours of your flight. If your miles do not post within seven days, visit the Delta SkyMiles website to submit a mileage credit request by providing your SkyMiles number and first 13 digits of your ticket number. You have up to nine months after the flight to request mileage credits.
Book Reward Travel
You can always view your SkyMiles balance by logging into your online account. When you are ready to use your miles for a reward flight, visit the Delta SkyMiles website and click on the "Use Miles" link. You can use miles for flights, merchandise in the SkyMiles mall, magazines, Delta Club memberships and upgrades. To book a reward flight, use the flight search feature on the Delta website and choose the "show price in miles" option. If you don't have enough miles for a certain flight, you can use a combination of miles and cash.